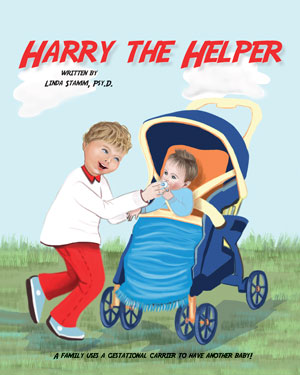 A heartwarming story about a little boy and his family who use a gestational carrier to have another baby, this beautifully illustrated children's book is written at a level your child can understand. In Harry the Helper, Dr. Stamm uncovers all the wonderfully positive feelings surrounding surrogacy.
This picture book is a great way for kids to learn about their distinctive beginnings. It is written for children ages 5–10.
MUSIC FOR FAMILIES CREATED VIA SURROGACY

A great musical companion to Harry the Helper is "Celebrate Being Born," a song that takes children created through surrogacy on a musical journey unique to their own family. This tune is meant to be enjoyed and shared with the whole family. The music was produced, arranged, and composed by Patricia Stamm, with lyrics co-written by Linda Stamm.
PRAISE FOR HARRY THE HELPER
"A beautiful and touching story that will reach your child on many levels. Dr. Stamm has captured not only the mechanics but also the emotional beauty of surrogacy."
—DR. BARBARA FEINBERG
Psychologist
Specialist in Infertility Support
"This is a clear cut, easy to read and follow book about an 'unknown area' for so many couples and children waiting for their siblings."
—AMY SHERMAN, MA, CCC-SLP
Speech Language Pathologist
"What a delightful tale of the gift of life, and a wonderful means of explaining the surrogacy process to a child."
—SARA CLAY
Attorney
Founder, Tomorrow's Parents International
Harry the Helper: A Family Uses a Gestational Carrier to Have Another Baby
by Linda Stamm
illustrated by Fátima Stamato
Paperback, 26 pages, 8″ x 10″
Full Color with Illustrations
Ages 5–10
Release: November 24, 2016
ISBN 9781540542564
Published by CreateSpace