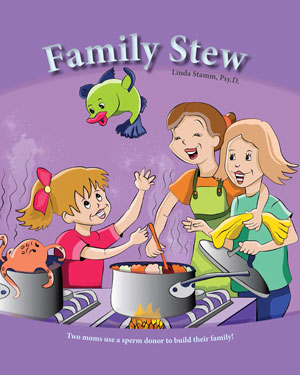 Olivia's moms tell her the charming story of how they became a family through sperm donation. This vividly illustrated and humorous children's book is a wonderful way for children conceived via donor sperm to learn about their origin.
Family Stew is a sister book to Family Stew for Dads. Both books share the same narrative and illustrator, though Family Stew for Moms is about family building through sperm donation, while Family Stew for Dads is about a family created through egg donation and surrogacy.
Family Stew is written for children ages 7 and up.
PRAISE FOR FAMILY STEW
"This a delightful yet informative book for youngsters living in a non-traditional home who have been conceived through the generous and beautiful gift of a donor. Dr. Stamm has managed to reach not only the younger set, but has provided a charming and heartwarming story adults will also enjoy."
—DR. BARBARA FEINBERG
Psychologist
Specialist in Infertility Support
"This is a wonderful story about what it means to be a family. It is clearly and beautifully illustrated. With so many non-traditional families finding their place in our society, there is a great need for us to support and nurture them as they develop their own creation stories. I am grateful to have such a wonderful resource for my same-sex couples."
—KATHY FOUNTAIN, LMHC
Licensed Mental Health Counselor
"Highly informative and comprehensible to a child. The explanation of conception, sperm donors, fetal development, and the different types of families were just perfect. The illustrations are fun and exciting to look at."
—BARBARA LYNNE, LICSW
Licensed Independent Clinical Social Worker
"Dr. Stamm's book is a one of a kind! A much needed resource for this underserved population!"
—Linda Waters, LCSW
Licensed Clinical Social Worker
"Dr. Stamm's books for donor-assisted families are invaluable resources in my practice. I routinely refer my clients to her storytelling, which renders complex subjects into practical messages that empower her audience."
—DR. EMILY FOGLE
Psychologist
"Dr. Stamm eloquently, understandably and educationally explains one of the ways in which modern day families are created, in a story children and parents will love. Family Stew is a valuable resource for families who are looking to teach children some of the basics about sperm donation in a beautifully illustrated, fun and loving story."
— DR. JAMIE M. JOSEPH
Psychologist
Family Stew: Two Moms Use a Sperm Donor to Build Their Family
by Linda Stamm
illustrated by Fátima Stamato
Paperback, 26 pages, 8″ x 10″
Full Color with Illustrations
Ages 7–12
Release: February 27, 2016
ISBN 9780692712306
Published by CreateSpace