Now there is a new way that parents can communicate with their children about building a family— through music! Highlighting the understanding that families can be created in many ways, these songs bring joy and relevance to children and families created through assisted reproduction.
The uniquely magical way that a child comes into this world is highlighted in "There's so Much of Me in You," dedicated to families created via egg donation. The music highlights a dream come true—a birth of love and joy, and the creation of a new family. This song is the perfect companion to the classic children's book Phoebe's Family by Linda Stamm.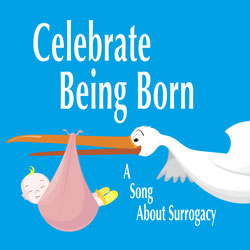 With an understanding that children can come to be in many ways, "Celebrate Being Born" was composed for families created via surrogacy. This song is a great musical companion to Harry the Helper, Linda Stamm's book for children that recounts the story of a little boy and his family who use a gestational carrier to have a new baby.
Each of these fun songs take children created through assisted reproduction on a musical journey unique to their own beginnings. They're meant to be enjoyed and shared with the whole family!
ABOUT THE ARTISTS
The music was produced, arranged, and composed by Patricia Stamm, with lyrics co-written by Linda Stamm.
Dr. Patricia Stamm studied theater at Barnard, but took a big step away from the arts to become a clinical psychiatrist, helping people with their medical and psychological challenges for over 30 years. Recently she returned to the arts as a playwright and composer.
Dr. Linda Stamm has been a practicing clinical psychologist for over 30 years, first in Boston and now in Atlanta. She specializes in the assessment and treatment of psychological issues related to infertility, pregnancy, perinatal loss, and the postpartum period.