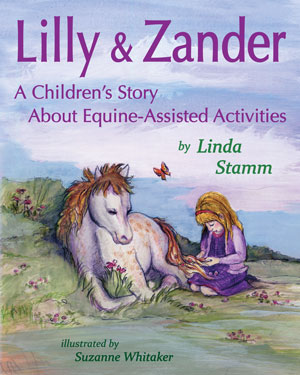 Come with Lilly on her unique childhood adventures with a pony named Zander. Zander helps Lilly overcome her motor and sensory challenges through equine-assisted and hippotherapy activities. These activities help make Lilly stronger and more coordinated. Through her relationship with Zander, Lilly gains confidence in herself and a willingness to approach new situations. This special bond teaches Lilly about friendship and how to give and nurture another.
Unlike other pony stories, Lilly and Zander engage in several hippotherapy exercises that ultimately build Lilly's core muscle strength, along with her gross and fine motor skills. She also becomes more adept at knowing where her body is in space, and tactile sensations that she previously found aversive are now tolerable. In addition, the beautiful outdoor environment, barn, and stables provide many sensory experiences that would otherwise not be found in a traditional clinical setting. New sounds, smells, colors and textures are abundant and offer new and enriching learning experiences. As a result of her relationship and bond with Zander, Lilly gains confidence in her willingness to approach new things and interact with her peers in social situations.
Riding and developing a relationship with a horse can be fun and beneficial for any child. And it can be especially rewarding for children with developmental delays, and other cognitive, physical, or emotional challenges.
Fully illustrated and written for children ages 5–10, this book is great to share with your entire family.
NEW MUSIC FEATURING A CHILD & HER PONY

A great companion to Lilly & Zander is the song titled "You Are the Friend." The music highlights the positive support, emotion and energy that a pony can bring to a child, despite life's sometimes stressful challenges. This tune is meant to be enjoyed and shared with the whole family. The music was produced, arranged, and composed by Patricia Stamm, with lyrics co-written by Linda Stamm.
ADVANCE PRAISE FOR LILLY & ZANDER
"Touching, informational, and inspirational! I would highly recommend this very appealing, child friendly story to all families with a child with special needs!"
—JOAN L. ARONSON, M.Ed., CCC-SLP
Speech-Language Pathologist
Registered Therapist in Hippotherapy
Founder & Director, Green Acres Equestrian Center
"Dr. Stamm has written a wonderfully thoughtful and sensitive story about the great therapeutic benefit of equine therapy. Lilly & Zander is a gift to children, parents and professionals interested in a non-traditional therapeutic intervention to address developmental delays, sensory integration and other challenges of childhood."
—JULIET BUCHWALTER, Ph.D.
Clinical Psychologist
"An emotionally authentic glimpse into the complex, age-old love affair between horses and humans, Dr. Stamm's enchanting and beautifully illustrated book is a must-read for anyone who has ever loved horses."
—MAUREEN VIDRINE, DNP, APRN-PMH
Director & Psychotherapist
Horse Time Equine-Facilitated Mental Health Center
"Dr. Stamm describes in almost magical prose the healing power that arises in relationships between humans and animals. The reciprocal friendship between Lilly and Zander is one that many children will embrace and treasure—it creates hope for all of us!"
—BERYL ANN COWAN, Ph.D., J.D.
Clinical Psychologist
"Lilly & Zander is a wonderful children's book and fabulous introduction to equine-assisted activities."
—CARRIE BARTELME, M.S., OTR/L
Pediatric Occupational Therapist
"An inspiring new book by Dr. Stamm on the many benefits of equine-assisted therapy."
—CATHERINE JONES
Equine Care & Riding Instructor
"A wonderful and heartwarming story of a little girl who is able to overcome her many challenges through the power of equine-assisted activities and therapies."
—MONICA WU, M.S., OTR/L, HPCS
Clinical Specialist in Hippotherapy
Lilly & Zander: A Children's Story About Equine-Assisted Activities
by Linda Stamm
illustrated by Suzanne Whitaker
Paperback, 34 pages, 8″ x 10″, 0.265 pounds
Full Color with Illustrations
Ages 5–10
Release: May 1, 2015
ISBN 9781938313035
Published by Graphite Press