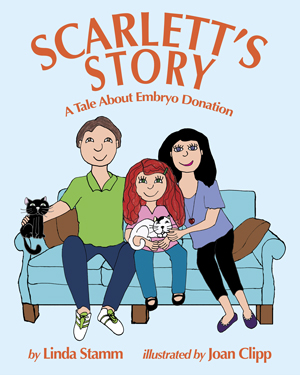 Scarlett's mom tells her the wonderfully unique story of how she came into being through embryo donation. Along the way, Scarlett hears about the challenges her mom and dad faced in trying to have a baby, as well as the ultimate good news of her birth into a warm and loving family.
This vividly illustrated children's book is a great way for kids to learn about their distinctive beginnings. It's great reading for children of all ages, but written for children ages 5–10.
Scarlett's Story is a sister book to Phoebe's Family and Ruby & Mommy. All three books share the same narrative and illustrator, though Scarlett was born through embryo donation, Phoebe through egg donation, and Ruby though sperm donation.
PRAISE FOR SCARLETT'S STORY
"Dr. Stamm has once again written a poignant, informative story about reproductive miracles—just for kids. She has captured the mechanics of embryo donation, while warming the hearts of the reader and the listener, alike."
—DR. BARBARA FEINBERG
Psychologist & Specialist in Reproductive Support
"Scarlett's Story is a vividly colorful book that is child friendly and extremely hands on for helping parents talk to their children about how they came to be. My clients love all Dr. Stamm's books."
—ELANA KLEMM
Licensed Professional Counselor
"Dr. Stamm offers families a sweet and loving story about their special journey toward forming a family—a story of love and dedication and resolve. I highly recommend this book!"
—MAUREEN MARTIN, LCSW
Licensed Marriage & Family Therapist
FROM THE AUTHOR
I wish to extend my gratitude to all the inspirational couples that have struggled with infertility, and have chosen embryo donation to build their families.
Scarlett's Story was created to help you talk with your child about his or her origins. The story can be retold often, adding information as your child matures. And it can provide a starting point to make all ongoing family communication more open and fluid. It is my honor to be part of your journey!
FROM THE OPENING PAGES OF SCARLETT'S STORY
Eight-year-old Scarlett lived with her mommy, daddy, and her two cats named Winter and Midnight. Winter had fluffy, white fur and a black spot over his eye. Midnight was as black as a stick of licorice.
Mommy loved to tell Scarlett stories about their family. On hot, sticky, summer nights, they looked up at the stars. They sat barefoot sipping their tall glasses of pink lemonade with colorful little umbrellas. Scarlett twirled her umbrella between her fingers and toes and listened to mommy speak. Mommy's eyes grew large and her mouth stretched wide into a circle like a great big "O."
"Scarlett, see those stars? Each one has its own story of how it came to be, and you know what? So do you!" And she went on to tell Scarlett's story—the story of how their sweet little girl came into their family. It went like this…
Scarlett's Story: A Tale About Embryo Donation
by Linda Stamm
illustrated by Joan Clipp
Paperback, 20 pages, 8″ x 10″, 0.185 pounds
Full Color with Illustrations
Ages 5–10
Release: June 30, 2017
ISBN 9781938313172
Published by Graphite Press