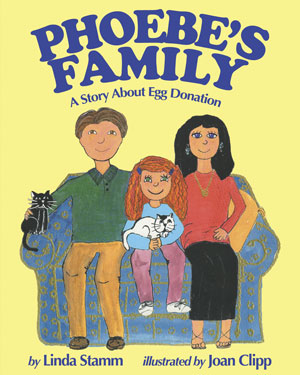 Phoebe's mom tells her the wonderful and unique story of how she came into being through egg donation. Along the way, Phoebe hears about the challenges her mom and dad faced in trying to have a baby, as well as the ultimate good news of her birth into a warm and loving family.
This vividly illustrated children's book is a great way for kids to learn about their distinctive beginnings. It's great reading for children of all ages, but written for children ages 5–10.
Phoebe's Family is a sister book to Scarlett's Story and Ruby & Mommy. All three books share the same narrative and illustrator, though Phoebe was born through egg donation, Scarlett through embryo donation, and Ruby though sperm donation.
MUSIC FOR FAMILIES CREATED VIA EGG DONATION

"There's so Much of Me in You" is the perfect song to compliment to Phoebe's Family. This music takes children created through egg donation on a musical journey unique to their own family, and highlights a dream come true—a birth of love and joy. This tune is meant to be enjoyed and shared with the whole family. The music was produced, arranged, and composed by Patricia Stamm, with lyrics co-written by Linda Stamm.
PRAISE FOR PHOEBE'S FAMILY
"Linda Stamm's book…is a genuine and heartfelt story…a complete portrayal of the egg donor process, from beginning to end, with sensitivity and intelligence. This book illustrates that with open communication and honesty, even what seems like a difficult conversation with your child can turn out to be the most rewarding talk you might have with them. For the present and future parents of an egg donor child, I highly recommend this book as a permanent part of your family's home library, to be shared over and over again throughout the years."
—RESOLVE
The National Infertility Association
"One of my favorite books on donor egg…"
—NANCY FREEMAN-CARROLL, Psy.D.
Author, Journal of Infant, Child, and Adolescent Psychotherapy
Supervising Analyst, The William Alanson White Institute
Faculty Member, The National Institute of Psychotherapy
FROM THE OPENING PAGES OF PHOEBE'S FAMILY
Mama loved to tell Phoebe stories about her family. On hot, sticky, summer nights they looked up at the stars. They sat barefoot, sipping their tall glasses of pink lemonade with colorful little umbrellas. Phoebe twirled her umbrella between her fingers and toes and listened to her mama speak. Mama's eyes grew large and her mouth stretched wide into a circle like a great big O.
"Phoebe, see those stars? Each one has its own story of how it came to be, and so do you!" And she went on to tell Phoebe's story—the story of how Phoebe was born into her family…
Phoebe's Family: A Story About Egg Donation
by Linda Stamm
illustrated by Joan Clipp
Paperback, 20 pages, 8″ x 10″, 0.180 pounds
Full Color with Illustrations
Ages 5–10
First Printing: November 1, 2003
Second Printing: June 1, 2016
ISBN 9780975581070
Published by Graphite Press